InstalTest COMBO Overview
The InstalTest COMBO is a manual multi-function and installation tester, and introduces the new single button "Socket Test" without the need for trailing leads.
Watch the 'Test Sockets in Seconds' Training Video!
This short training module shows electricians how to test sockets in seconds without cumbersome trailing leads using the Instaltest Combo. The InstalTest Combo simplifies socket compliance testing from 4 tests to a single push button test.
---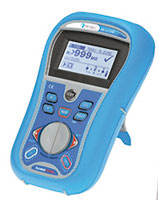 MI-3125 InstalTest COMBO ... $1,099 ex GST Buy Now
The InstalTest COMBO is a 3-In-1 Complete Electrical Tester It is available in 2 models, standard version and data logging/reporting version. It combines the functions of:
Multi-Function Tester
Replaces 5 instruments with 12 tests in one instrument: multimeter, insulation tester, RCD tester, fault loop/line impedance tester and phase sequence tester
Single and Three Phase Installation Tester
Installation testing to AS/NZS3000 and AS/NZS3017 covering earth continuity, insulation resistance, polarity, correct connections, fault loop impedance and RCD tests. Use MI-TPI accessory for 3 phase installation verification and testing.
Pass/Fail Tester
New "test sockets in seconds" with single push button without trailing leads. Preset and user defined Pass/Fail limits with red/green LED and on-screen tick and cross display.
The InstalTest COMBO can be used for general electrical and troubleshooting work, as well as for installation compliance testing.  And, its affordably priced. MI-3125 is priced at only $999 ex GST and MI-3125B data logging and reporting version is priced at $1,499 ex GST. For a detailed brochure on the InstalTest COMBO, click: InstalTest COMBO Brochure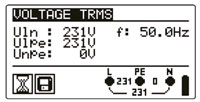 Voltage, Frequency and Phase Sequence
Simultaneously measures voltages between L-N, L-PE and N-PE, phase sequence and frequency. Values are shown in real-time. On 3 phase systems it monitors voltages between phases and phase sequencing.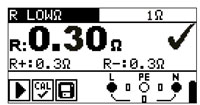 Earth Resistance & Equipotential Bonding
200 mA continuity test for testing resistance of earth conductors and equipotential bonding. Automatically swaps polarity. Limits can be set by the user, for example, 1ohm and the COMBO indicates a Pass.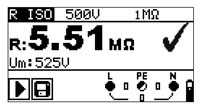 Insulation Resistance 
With test voltages from 50V to 1000V. Measures from 0.01Mohm to 200Mohm. Also displays instrument test voltage. Users can set limits for Pass/Fail indication of results, for example, 1Mohm and the COMBO indicates a Pass.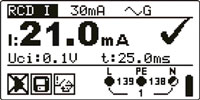 RCD Trip Time & Trip Current Test 
Five RCD testing functions: contact voltage, trip time, trip current, RCD ramp test and AUTO which tests all RCD parameters with one button press. Users can also set test current waveform plus starting polarity.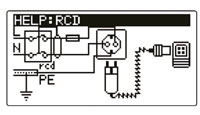 Help 
Not sure of the connections for a test ... the COMBO unit is your best friend. Just press the HELP button and on-screen diagrams will help you get the job done right.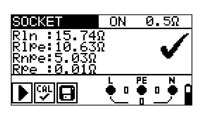 Socket test "Pass"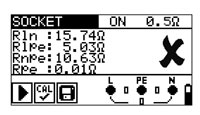 Socket test "Fail"
Socket Test - Earth Resistance, Correct Connections and Polarity 
The InstalTest COMBO introduces the new single button "Socket Test" without the need for trailing leads. The "Socket Test" performs Earth Continuity, Polarity and Correct Connections tests with a single push button and with Pass/Fail indication with a tick or cross and green/red LED indication. COMBO simplifies socket testing by reducing the number of tests required from 4 tests to a single push button test.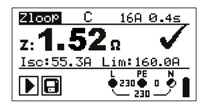 Fault Loop/Line Impedance/PSC 
Two fault loop tests: Z-loop high current loop tests for non RCD protected circuits and Zs-rcd for low current loop tests guaranteed not to trip the RCD. Users can select fuse type, fuse current rating and fuse tripping time.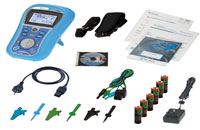 Complete Kit with Resistor Box
For everyday electrical work, all test leads, test probes and alligator clips are included. For installation verification to AS/NZS3017, a 5ohm & 10ohm resistor box is included for correct connections & polarity.
---

MI-TPI 3 Phase Installation Testing Accessory
MI-TPI 20A 3 Phase Accessory ... $269 Ex GST Buy Now
MI-TPI 32A 3 Phase Accessory ... $269 Ex GST Buy Now
Verify 3 phase installations from the socket outlet, without the need for probing. Use with InstalTest COMBO or IT3017.
The MI-TPI makes 3 phase installation verification safer, faster and more reliable that traditional methods requiring probing of the 3 phase socket outlet.